Historically, the spaceflight industry has been dominated at the state level through space agencies, prime contractors, and launch service providers. But despite such a large portion of the space economy serving government-funded interest, Wall Street's consensus is that space will become a multi-trillion dollar industry in the next 10-20 years – with banks such as Morgan Stanley, Goldman Sachs, Bank of America, and UBS receiving more and more frequently research requests on how the space industry is growing (CNBC).
With space exploration encompassing a wide range of innovative as well as traditional industries, it is without a doubt a new frontier, for not only the human race but the market economy. 
*This article is by no means financial advice as I am no expert in either the financial or space sector. I only hope to contribute to the discussion with my own research and help my readers understand the general and future landscape of the business.
The Present and Future of the Space Business Ecosystem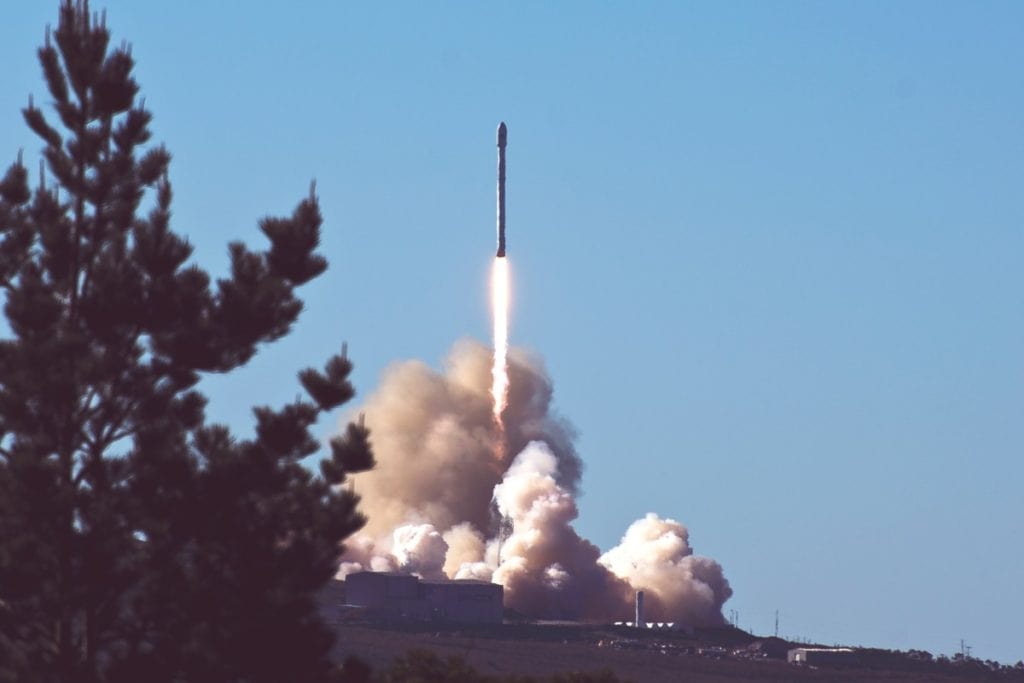 Before we get into any nitty-gritty details for business opportunities within the global space sector, I believe it is of utmost importance to understand the dynamics and landscape of any industry before making the decision to advance into the market.
With that said, let's take a look at the current state of the space economy.
The New Space Movement. if you've never heard of it before, you've heard of it now. This movement refers to the increasing direct participation of private companies in the space sector since the early 2000s.
Saverio Calderoni, a specialist of European New Space explains (1):
"When we say New Space, we are not talking merely of the general commercialization of space, as there has been a commercial element in space activities for decades, but rather the cultural and philosophical shift toward greater private participation."
And it's no surprise the United States has since become the global leader in the development of the space sector. In 2005, two NASA programs by the name of Commercial Orbital Transportation Services and the Commercial Resupply Services opened the route for commercial companies to make investments in the orbital transportation industry. The U.S. SPACE Act of 2015 also authorized US citizens and companies to engage in the commercial exploration and recovery of space resources, which led to the development of growing industries such as launch systems and space tourism (1).
Just within the century, more than 220 angel and venture capital-backed space companies have been founded, attracting investments of over US$ 21.8 BN (1). The growth of the commercial space sector can be seen through the enthusiasm of venture capitalists, who have thrown a total of US$ 8.4 BN in space start-ups since 2000, with 85% of it being invested in just the last 4 years (2016-2020) (1). In 2018 alone, the global space economy accounted for US$ 350 BN!
The Ecosystem Approach to the Business of Space
In past and present times, the main contributor of the commercial space market has been the telecommunication industry, with satellite TV leading in global satellite revenue since 2008. Unfortunately, its continuous decline throughout 2016 has led satellite operators to look for new opportunities, more specifically in the mobile and broadband sector.
And it is important to understand the global satellite industry is not the only one affected by this change.
Disruptive innovation has always changed several industries at once (i.e., the internet, streaming services, etc.), and this was not because of direct competition, but the rise of new products and services that overtook the old ones (1).
The future of the commercial space market will no longer be limited to just traditional space segments such as launch, satellite, and ground equipment – It will bypass boundaries and change the outlook on the dynamics of the global space market forever! This will not only involve industries that look after the end-user experience, such as voice, data, and content but incorporate an interconnected landscape that will span more than 20 industries wide (1)! The commercial space market will no longer be defined by individual sectors but become a self-sustaining ecosystem that has a continuous push for innovation.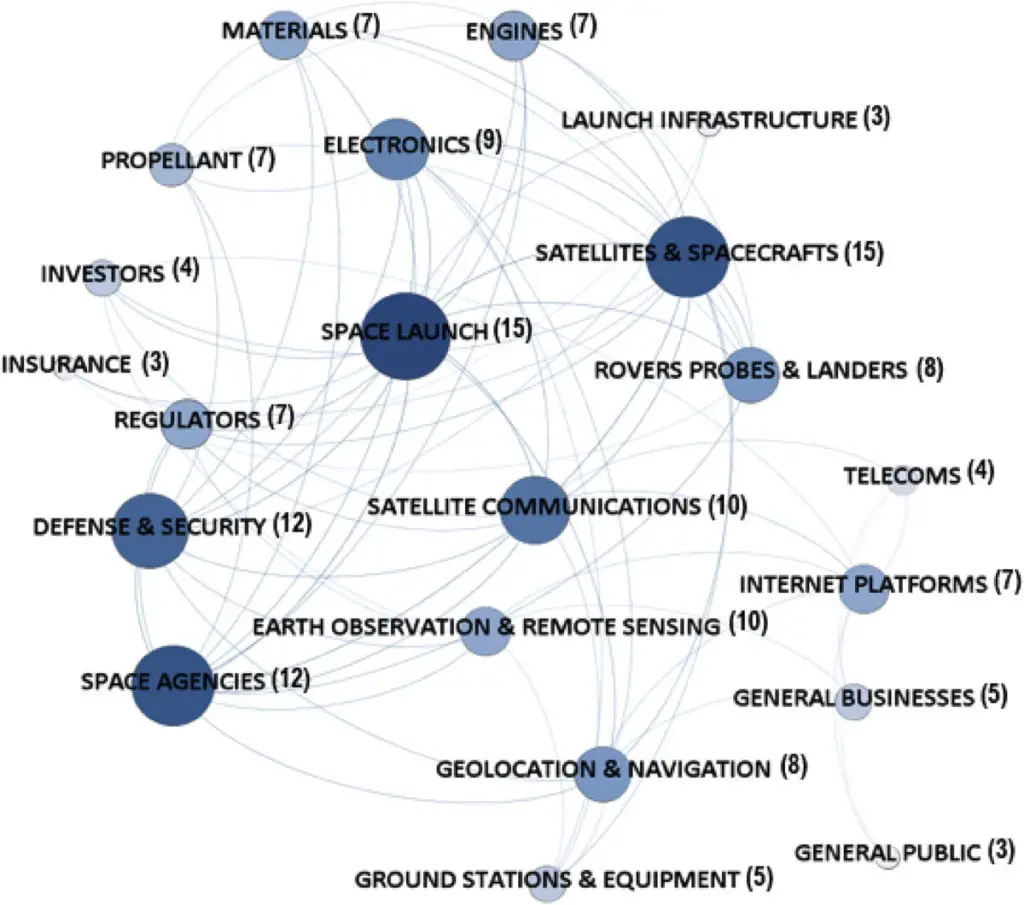 Innovation is important, but in order to push the consensus of the general public in favor of supporting innovation in the space sector, which is what gives venture capitalists the confidence that their investments will yield positive returns – start-ups and commercial companies need to not only focus on what might be their dream to contribute to the colonization of Mars but also develop products and services that are able to provide positive end-user experiences with a direct impact on consumer lives. Instead of tackling technologies like rovers, probes, landers, etc., I am talking about turning focus towards the field of mini satellites and reusable rockets.
Mini satellites with increased performance and higher cost efficiency will not only provide new forms of data communication (i.e., low latency and global coverage) (1), it will also lead to the rise and fall of industry leaders that cannot adapt to the uncertain and everchanging landscape of the space economy. Industries affected by these new satellites might include telecom services, internet platforms, satellite communication, geolocation, navigation, etc.
These changes will surely affect consumers in very tangible ways. And be it for better or worse, also shape the consumer opinion on the development and funding of the overarching space industry.
Consumers aside, the reusability of rockets is the real deal-breaker that will make or break the global space market. Reusability will not only bring down the cost to send cargo into space, which was reduced from an average of US$ 18,500 per kilogram in the 1970 and 2000s to US$ 2,720 per kilogram with SpaceX's reusable Falcon 9.
Boosting launch capacity while significantly reducing cost will without a doubt benefit the entire ecosystem, all the way up to the final user (1). Rocket reusability will become the backbone for the commercial viability of the space sector.
Keep in mind though things might not always go our way. The one thing investors need to keep an eye out for is how state regulations might evolve during this timeline. For example, pro-user policies might allow new space companies to launch satellite constellations and provide telecommunication services to the final users, which would effectively bypass the middleman – satellite communication companies and telecom operators (1). Nonetheless, restrictive policies could also be considered to reduce waste and debris in orbit, as well as prevent disputes between countries for low orbit slots and frequency spectrum allocations (1).
And now, with everything in mind, let's see what business opportunities might be cooking in the space sector today.
The Business Opportunities of the Commercial Space Sector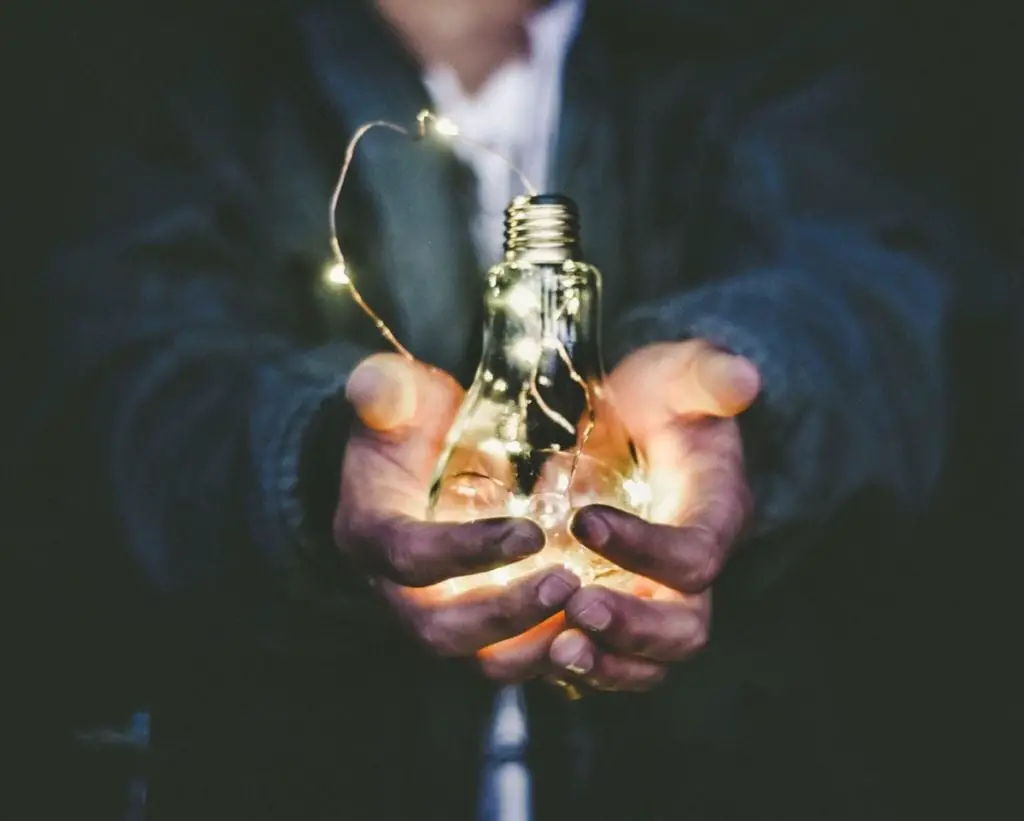 Human spaceflight historically has always been state developed and managed through space agencies. Although you cannot invest directly into state-controlled organizations, these agencies often contract out the development and manufacturing of technology to prime contractors and launch service providers that can be publicly traded.
Major Space agencies include:
NASA – National Aeronautics and Space Administration (USA)
Roscosmos – State Corporation for Space Activities (RUS)
ESA – European Space Agency (EUR)
CNES – National Centre for Space Studies (FR)
ASI – Italian Space Agency (IT)
DLR – German Aerospace Center (DEU)
CNSA – China National Space Administration (CHN)
JAXA – Japan Aerospace Exploration Agency (JPN)
ISRO – Indian Space Research Organization (IND)
ISA – Israel Space Agency (ISR)
I have listed known commercial and private contractors for the various segments within the space industry below. Although some are still privately held (i.e., SpaceX), the space sector is diverse in that it is not a one dominates all ecosystem. For example, the construction of a rocket relies not on one company alone, but the intersection of many that might provide the materials and technical knowledge.
The growth of the space sector will not allow for the domination of market. So it is important for investors to keep an open eye for publicly traded companies within the space business ecosystem that might have a share in bringing home a piece of the pie.
*Before any amount of investing, always do your research on the company, the head of leadership, and their future direction. Don't gamble, take calculated risks, and remember, you are always responsible for your own actions.
Human Spaceflight and Space Launch Systems
Influential companies that we should keep a lookout for in the current human spaceflight industry include:
Virgin Galactic (SPCE)
Boeing (BA)
Lockheed Martin (LMT)
SpaceX,
Blue Origin
Nanoracks
Virgin Galactic founded by Sir Richard Branson was the first publicly-traded company that placed its focus on space tourism. This gave another invitation for investors to invest in the space sector and is just the first step of many to larger and more significant space opportunities (CNBC).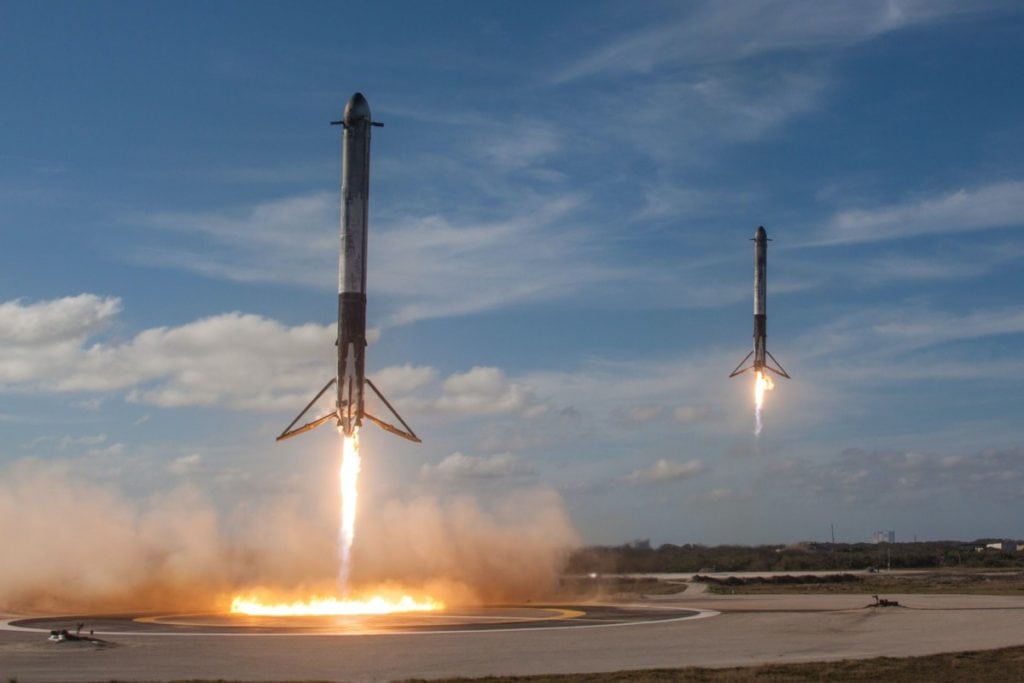 Blue Origin and SpaceX, the two space ventures built by billionaires Jeff Bezos and Elon Musk also hope to make their mark in the space sector. The former was contracted to build the lunar lander as part of NASA's Artemis Program to bring humans back to the moon, with the latter becoming the most active rocket launching company in U.S. history, who proved at the same time it can reuse the most valuable part of the rocket (boosters) with its vertical takeoff and landing technology.
"It used to be a space race between countries, and now it's a space race between billionaires."

Anoop Menon
Prime contractors that design and manufacture space launch vehicles include (1):
Ariane Group (EUR)
Lockheed Martin (USA)
Boeing Defense & Security (USA)
ULA – United Launch Alliance (USA)
Northrop Grumman Innovation Systems (Former Orbital ATK) (USA)
Yuzhmash/Yuzhnoye Design Office (UKR)
Korolev Rocket and Space Corporation Energia (RUS)
Khrunichev State Research and Production Centre (RUS)
CASC – China Aerospace Science and Technology Corporation (CHN)
Mitsubishi Heavy Industries (JPN)
Major National and International launch service providers include (1):
Ariane Space (EUR)
Eurockot Launch Services (EUR, RUS)
Starsem (EUR, RUS)
Sea Launch (RUS)
ILS – International Launch Services (RUS, USA)
GK Launch Services (RUS)
Antrix Corporation (IND)
New private spaceflight companies include (1):
Space Exploration Technologies – SpaceX (USA)
Blue Origin (USA)
Virgin Orbit (USA)
Stratolaunch Systems (USA)
Rocket Lab (USA/New Zealand)
Relativity Space (USA)
Vector Launch (USA)
Firefly Aerospace (USA)
Rocket Crafters (USA)
SpaceFlight Industries (USA)
Land Space Technology Corporation (CHN)
One Space Technology (CHN)
Link Space Aerospace Technology (CHN)
i-Space (CHN)
National Security Space
Due to the nature of the U.S. military, many defense companies have been building and launching spacecrafts as their main and consistent line of business for years. Although with that being said, space-related activities are actually only a minor part of the national security sector's annual revenue (5-20%). However, it would be unwise to underestimate them.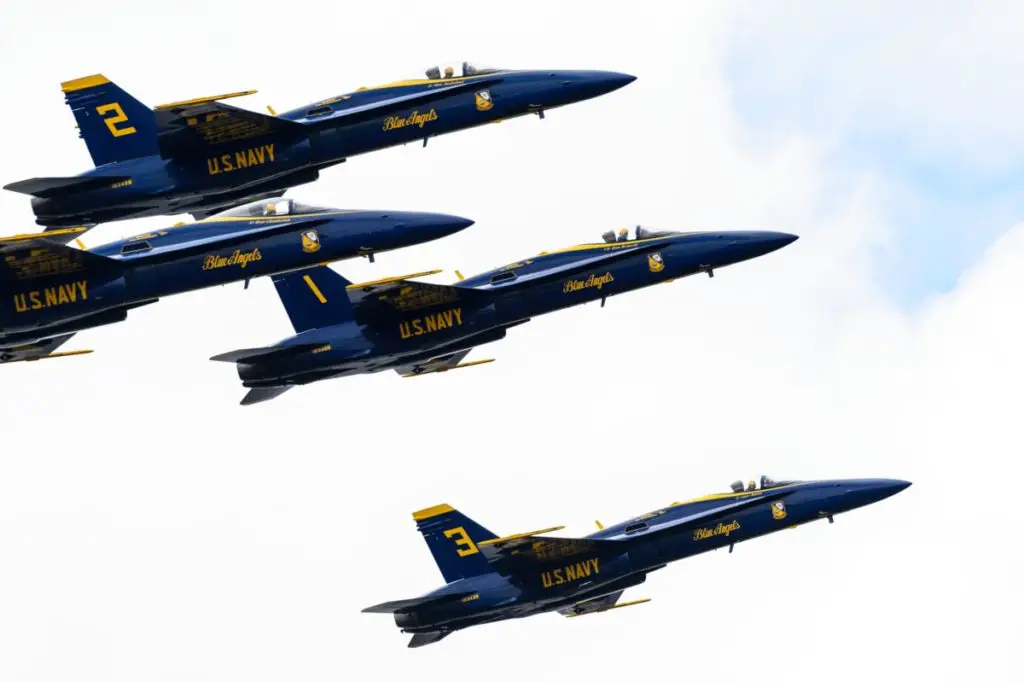 A company like Aerojet Rocketdyne, which focuses on propulsion systems for a variety of military and commercial rockets and spacecrafts was up 25% last year due to the continued sales growth of their rocket engines (CNBC).
Some publicly traded and private companies in the National Security sector includes (CNBC):
Aerojet Rocketdyne (AJRD)
Ball Aerospace (BLL)
Boeing (BA)
Honeywell (HON)
L3Harris Technologies (LHX)
Lockheed Martin (LMT)
Northrop Grumman (NOC)
Raytheon (RTN)
SpaceX
Rocket Lab
Relativity Space
Blue Origin
Virgin Orbit
Sierra Nevada Corporation
Firefly Aerospace
Satellite Communications, Landers, Rovers, and Probes
The current rate of development for the artificial satellite industry has become unstoppable. The miniaturization of satellites has dramatically increased satellite capacity in lower earth orbit with higher bandwidth for end-users at a reduced cost per bit (1).
Increased performance and higher cost efficiency allowed us to develop artificial constellations formed by thousands of mini-satellites that is able to provide the end-users with global broadband coverage.
For the investors that are looking to invest in the space industry sooner rather than later, the satellite communications category offers the most amount of publicly traded companies (CNBC).
Some major companies and organizations that build large geosynchronous satellite platforms, spacecrafts, and also landers, rovers, and probes include (1):
Airbus Defense and Space
OHB SE
Boeing Defense
Space & Security
NASA JPL
INVAP
ISS-Reshetnev
NPO Lavochkin
RS Energia
Lockheed Martin
Northrop Grumman Innovation Systems (former Orbital ATK)
SSL (former Space Systems/Loral)
SES
Thales Alenia Space
Ball Aerospace
Mitsubishi Electric Corporation
China Great Wall Industry Corporation
U R Rao Satellite Centre
Israel Aerospace Industries
New Space Satellite manufactures that have designed and developed smaller satellite platforms include (1):
SpaceX
OneWeb Satellites
Planet Labs
GomSpace
GAUSS Srl
Dauria Aerospace
Clyde Space
Millennium Space Systems
SpaceQuest
Surrey Satellite Technology (Acquired recently by Boeing)
QinetiQ
Pumpkin Space Systems
EnduroSat
Innovative Solutions in Space (ISIS)
NanoAvionics
The current publicly traded satellite communication companies include (CNBC valuations):
DISH Network (DISH)
ViaSat (VSAT)
EchoStar (SATS)
Intelsat (I)
Iridium Communications (IRDM)
Loral Space & Communications (LORL)
Globalstar (GSAT)
Gilat Satellite Networks (GILT)
ORBCOMM (ORBC)
Global Eagle Entertainment (GEENQ)
Amazon (AMZN) – Kuiper
AT&T (T) – Direct TV
Comcast (CMCSA)
Sirius XM (SIRI)
Imaging and Data Analysis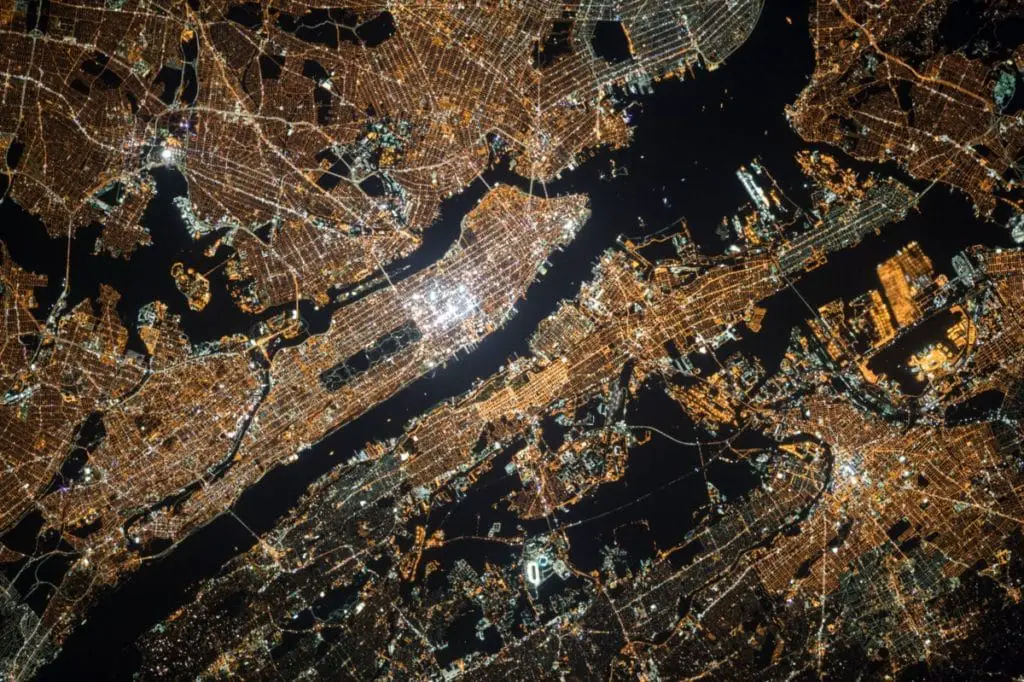 The imagery and data analysis sector involves technology such as GPS, geospatial imagery, weather data collection, Earth surface imaging, etc.
This category represents the smallest total market value according to CNBC. But thanks to decades of private investments, imaging, and data analysis might actually experience the fastest growth in the coming years. 
Let's see why:
The geospatial imagery industry uses satellites to convey information about the natural phenomenon and human activities occurring on Earth's surface. Chad Anderson, the CEO of a small New York City firm Space Angels told CNBC that he sees geospatial imagery as satellites "providing information about the world around us, spatially, so we understand where things are and where they're moving." He compares the development of geospatial imagery to the development of the GPS back in the late 1970s when the government was also investing in infrastructure for military applications.
Pure-play publicly traded companies and companies with exposure in this category include:
Maxar Technologies (MAXR)
Garmin (GRMN)
Trimble (TRMB)
Private companies in this category include:
HawkEye 360
Spire Global
SkyWatch
Planet
The growth of the space market has been projected to reach multitrillion dollars within the next 10-20 years. As such, any investments made are for the long-term and patience becomes a necessity.
We cannot forget space is still a new frontier that has not yet been conquered, meaning any efforts made are not without risk, everything is uncertain, and the market will be extremely volatile. But as the saying goes, the bigger the risk, the bigger the reward. We just have to believe in the destination and the potential of mankind.
---
References
Orlova, A., Nogueira, R., & Chimenti, P. (2020). The Present and Future of the Space Sector: A Business Ecosystem Approach. Space Policy, 52, 101374. https://doi.org/10.1016/j.spacepol.2020.101374